AMBASSADOR NOMINATION CEREMONY FOR PEACE (Angola)
Under the motto: Shaping Peace Together, spreading compassion, kindness, and hope in the face of the pandemic, launched by UN for 2020, YSP – Angola held precisely on the day dedicated to the Celebration of Peace and Peacemakers, the Nomination Ceremony for Ambassadors for Peace, attended by 100 participants via the Zoom platform and by 2851 people via YSP – Angola's Facebook.
Ten personalities of Angolan society from different areas were nominated as Ambassadors for Peace namely out: sports, literature and arts, mentors, coaching, scouts, health and well-being, public administration, who, in this event had committed even more strongly to work, to support young people, and to give tribute through objective actions the vision, mission, and values of IAYSP.
In addition to the Nomination of Ambassadors for Peace, the YSP-Angola have launched the website www.yspangola.org as well.
THE CEREMONY HAD THE FOLLOWING SPEAKERS:
– Representative of the Office of the UN Resident Coordinator in Angola- Dr. Fátima Santos;
– The International President of Youth & Students for Peace (AIYSP) – Mr. Koji Matsuda;
– The UPF – Angola President – Dr. Manuel Domingos Adão;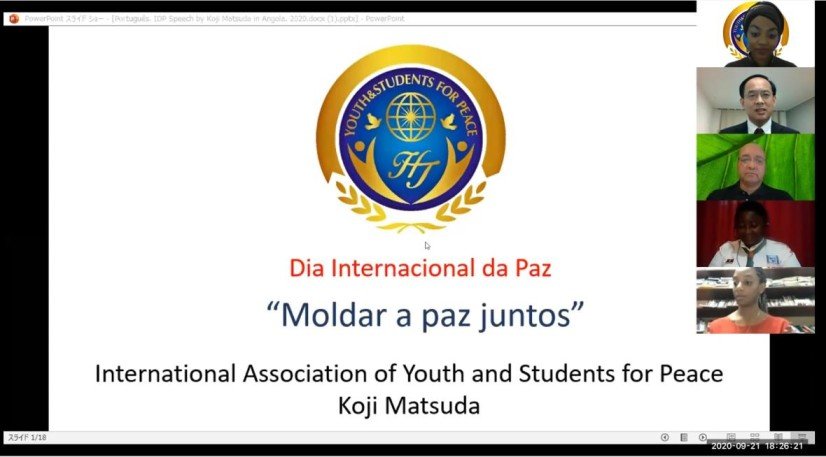 – The President of the Federation of Families for World Peace and Unification in Angola
– Rev. Kinambuta Sambo Pedro, who gave some words at its end
– And the UPF – Angola Secretary-General – Dr. Joaquim Rodrigues
The Ceremony had a simultaneous translation in English and French, supported by UPF-Angola and also counted on the direct participation of YSP-Latin America, in the person of Gabriela Pantoja, who translated in the Spanish language.